PUNA, Hawaii (KHON) — Kilauea's volcanic activity continues on Hawaii island, and the scary part is not knowing where the next fissure could open.
There are now 12 fissures, or large vents, in or just outside Leilani Estates.
While county officials say lava is no longer coming out of the fissures, it's not over yet, and toxic sulfur dioxide fumes remain a major concern.
As of Monday, lava has burned a total of 35 structures, Hawaii County Civil Defense reports. Twenty-six are verified residences.
Leilani Estates residents will be allowed to check on their property from 7 a.m. to 6 p.m. each day until further notice, conditions permitting.
Residents will be required to provide identification and proof of residency in the subdivision. They can register for entry placards throughout the week at the community information center that is now open at Sacred Hearts Church in Pahoa, Mondays through Fridays, 9 a.m. to 3 p.m.
"We've got to make sure we vet everybody as far as making sure that the actual residents or homeowners or renters are going in there and nothing else is happening," said Hawaii County Civil Defense administrator Talmadge Magno.
Residents of Lanipuna Gardens are not able to enter their homes due to dangerous volcanic gases.
The Hawaii County Police Department and the Prosecutor's Office have established a policy of zero tolerance towards looting or vandalism. Under Emergency Provisions, any looting or vandalism will be treated as a felony.
Officials urge all visitors to avoid the Leilani Estates area. Sightseeing is not allowed for safety reasons.
Hawaii Electric Light reminds residents to treat all downed lines as live. Under no circumstances are you to approach or touch downed lines.
The Department of Water Supply confirms water repairs on Pohoiki Road are completed. The water line is currently being recharged. A water truck for public use is located near the Vacationland mailboxes.
On Monday, while Puna Geothermal Venture reported no activity at this time and its facility is secured, the company is taking precautionary measures to remove potentially flammable materials from the site. Councilwoman Jen Ruggles said the company agreed to remove the pentane gas stored at the facility.
"Since the recent lava activity has only been increasing, the risk assessment must have demonstrated that it's safer to start transporting the pentane, so in terms of how they are going to do that, that is what they're figuring out currently," she said.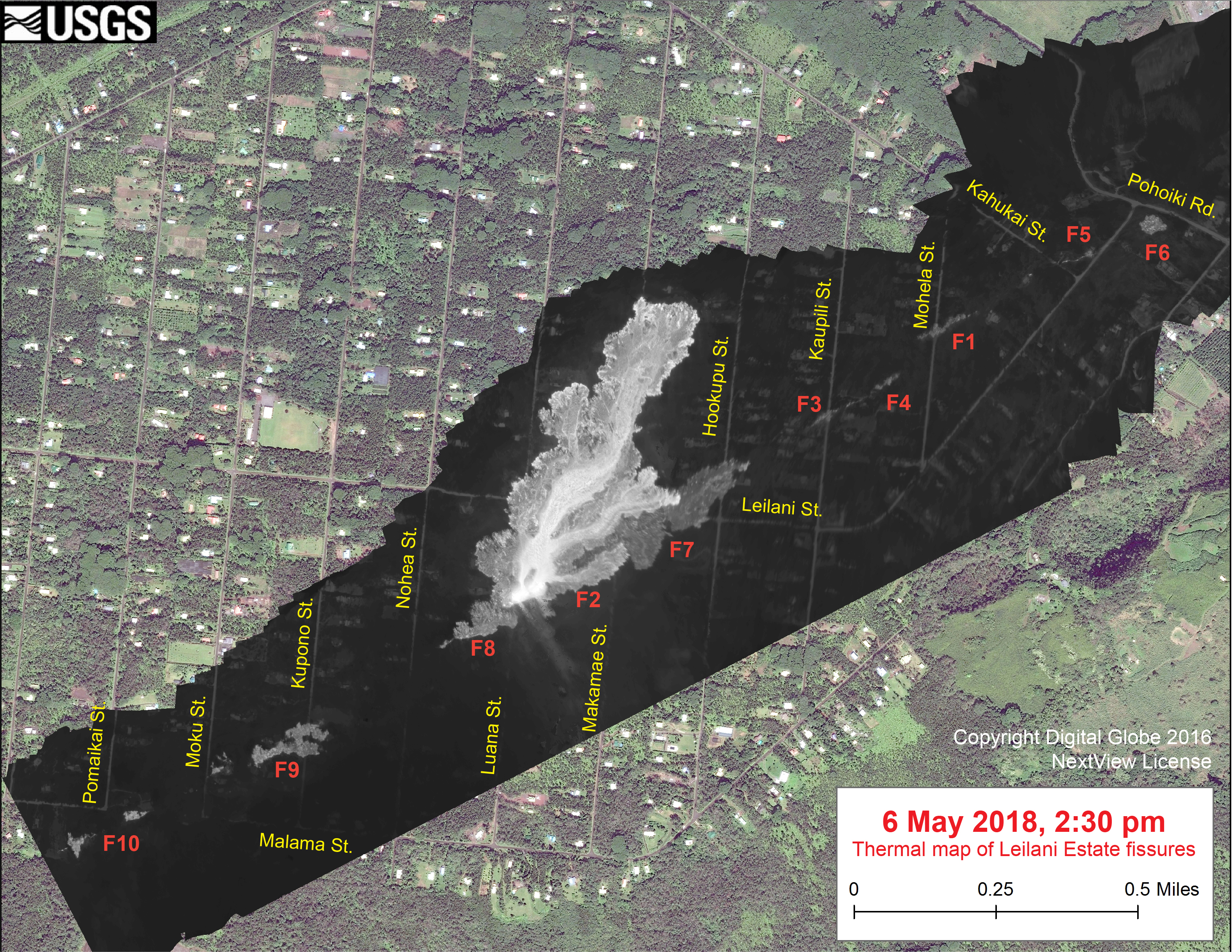 This thermal map clearly shows the 'a'ā flow spreading northward (top) from fissure 8 during an overflight of the area this afternoon. The black and white area is the extent of the thermal map. Temperature in the thermal image is displayed as gray-scale values, with the brightest pixels indicating the hottest areas (whitish areas show the active lava flow). The gray linear features are the other fissures (numbered in red color) that have erupted thus far in the sequence. The thermal map was constructed by stitching many overlapping oblique thermal images collected by a handheld thermal camera during a helicopter overflight of the flow field. The base is a copyrighted color satellite image (used with permission) provided by Digital Globe. (See large map)
Click here for interactive map
So far, the fissures have formed a straight line, and geologists say while unlikely, there is a chance a new lava vent could appear outside of this pattern.
"We don't know all the intricate pre-existing fissures or newly forming fissures. We don't know where they all are, therefore we can't predict when or where a new fissure will open up," said Scott Rowland, a geologist with the University of Hawaii at Manoa.
Geologists say the eruption is not over yet, and they continue to detect earthquakes and magma within the East Rift Zone.
"We are learning things. So for instance, we are collecting samples from each fissure once it has erupted, so they've been analyzed, and we are beginning to understand more about what's coming out, where it's been, and what might come next," said Janet Babb, a geologist with the U.S. Geological Survey Hawaiian Volcano Observatory.

Volcanic activity
Lower East Rift Zone Eruption
The intermittent eruption of lava in the Leilani Estates subdivision in the lower East Rift Zone of Kilauea Volcano continues. The location of activity today was focused on the southwest portion of the area.
This morning, two new fissure segments broke ground. The first (fissure 11) opened in a forested southwest of Leilani Estates about 9:30 am and was active for only 3 hours. The second (fissure 12) opened about 12:20 between older fissures 10 and 11. By 3:15 pm, both new fissures were in active but the west end of fissure 10 was steaming heavily.
Cracks on Highway 130 widened from 7 cm to 8 cm over the course of the day and additional cracks were found just west of the highway on trend with the eruptive fissures.
Rates of seismicity and deformation changed little throughout the day.
Gas emissions likely remain elevated in the vicinity of fissures.
HVO geologists will be in the area overnight to track and report to Hawaii County Civil Defense on the activity, and other scientists are closely tracking the volcano's overall activity using various monitoring data streams.
Kīlauea Volcano Summit
Tiltmeters at the summit of Kīlauea Volcano continue to record the deflationary trend of the past several days and the lava lake level continues to drop. Rockfalls from the steep crater walls into the retreating lake continue to produce occasional ashy plumes above Halema'uma'u crater. These plumes are expected to continue.
Earthquake activity in the summit remains elevated but has decreased over the past few days. Many of these earthquakes are related to the ongoing subsidence of the summit area and earthquakes beneath the south flank of the volcano.